Land management, Ecology and Degradation in Australia
Andreeva Liniger

Environment Institute of Australia, Balwyn

Laura Zander

Environment Institute of Australia, Balwyn
Abstract
Land degradation is an idea in which the value of the environment of biophysical is impacted by several associations of human activities affecting the land. It refers to the impairment of natural soil and its components in any ecosystem. It is also seen as a reduction of quality of lend caused by activities of human beings. This has been a major problem since 20th Century and it's still the problem currently. The study has shown that the lands in the world have seriously degraded. Moreover, the main results of degradation of land is a remarkably decrease in the land productivity especially in the agricultural production and environmental ecosystem. The study captured the major causes of land degradation which include: Deforestation, Overgrazing, over irrigation, quarrying of stones or mining, Desertification, Infrastructure and Population density. The study also shows that adversely impacted remarkably large portions of arable land reducing the economy and wealth of the research region. As land reduces its productivity there's increase in food insecurity and competition for the available resources. Therefore, the research provided the mitigate strategies of land degradation so as to reduce poverty and food insecurity at the study area.
Key words: Land management, Ecology and Degradation in Australia
References
Campbell, A., Alexandra, J., & Curtis, D. (2017). Reflections on four decades of land restoration in Australia. The Rangeland Journal, 39(6), 405-416.

Conacher, J., & Conacher, A. (2010). Policy responses to land degradation in Australia. In Land Degradation (pp. 363-385). Springer, Dordrecht.

Cork, S., Eadie, L., (2015). The relationships between land management practices and soil condition and the quality of ecosystem services delivered from agricultural land in Australia. Kiri-ganai Research Pty Ltd. Camberra, Australia.

Cowie, A. L., Waters, C. M., Garland, F., Orgill, S. E., Baumber, A., Cross, R., ... & Metternicht, G. (2019). Assessing resilience to underpin implementation of Land Degradation Neutrality: A case study in the rangelands of western New South Wales, Australia. Environmental Science & Policy, 100, 37-46.

Gretton, P., & Salma, U. (2016). Land degradation and the Australian agricultural industry. Industry Commission. Belconnen.

Hill, R., Pert, P. I., Davies, J., Walsh, F. J., & Falco-Mammone, F. (2013). Indigenous land management in Australia: extent, scope, diversity, barriers and success factors. Cairns: CSIRO Ecosystem Sciences.

Kust, G., Andreeva, O., & Cowie, A. (2017). Land Degradation Neutrality: Concept development, practical applications and assessment. Journal of environmental management, 195, 16-24.

Metcalfe D., J. & Bui E., N. (2017). Australia state of the environment 2016: land, independent report to the Australian Government Minister for the Environment and Energy, Australian Government Department of the Environment and Energy, Canberra, doi:10.4226/94/58b6585f94911.

Wairiu, M. (2017). Land degradation and sustainable land management practices in Pacific Island Countries. Regional Environmental Change, 17(4), 1053-1064.

Webb, N. P., Marshall, N. A., Stringer, L. C., Reed, M. S., Chappell, A., & Herrick, J. E. (2017). Land degradation and climate change: building climate resilience in agriculture. Frontiers in Ecology and the Environment, 15(8), 450-459.

Wuest, S. B., J. D. Williams, & H. T. Gollany, (2006): Journal of soil and water conservation. J. Soil 2 Water Conserv., 61, 218–223.

Xinying, Z., L. Xiaoqiang, J. Dodson, Z. Keliang, P. Atahan, S. Nan, & Y. Qing, (2012): Land 5 degradation during the Bronze Age in Hexi Corridor (Gansu, China). Quat. Int., 254, 42–48, 6 doi:10.1016/J.QUAINT.2011.06.046.

Xu, G., Y. Zhang, H. Shao, & J. Sun, (2016): Pyrolysis temperature affects phosphorus transformation.

Xu, J., P. J. Morris, J. Liu, & J. Holden, (2018a): PEATMAP: Refining estimates of global peatland 15 distribution based on a meta-analysis. Catena, 160, 134–140, doi:10.1016/j.catena.2017.09.010.

Xu, J., R. Yin, Z. Li, & C. Liu, (2016): China's ecological rehabilitation: Unprecedented efforts, 13 dramatic impacts, and requisite policies. Ecol. Econ., doi:10.1016/j.ecolecon.2005.05.008.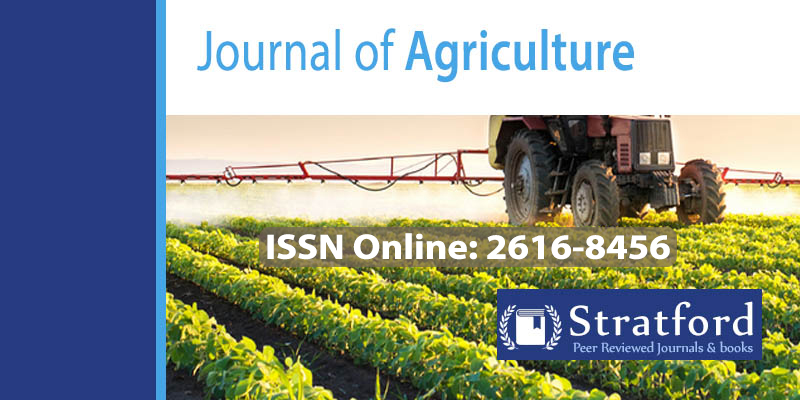 How to Cite
Liniger, A., & Zander, L. (2021). Land management, Ecology and Degradation in Australia. Journal of Agriculture, 5(1), 38-44. Retrieved from https://stratfordjournals.org/journals/index.php/journal-of-agriculture/article/view/824