Effects of health pandemic on Education Sector in Sweden: Case study of Covid-19 pandemic
Casado Tomlinson Thunqvist

University of Gothenburg

Brayne Chatoney

University of Gothenburg
Abstract
The study sought to examine the effect of COVID-19 on the education sector in Sweden. The study was a literature-based review. The COVID-19 has considerably interfered with every aspect of human life, including education. The worrying spread of the virus has caused havoc in the educational system hence making educational institutions close down. Lots of children across the globe have been severely affected by the short-lived closure of educational institutions. Nations have made use of different techniques to minimize the effect of the COVID-19 pandemic, different learning institutions have responded to the closure in different ways and in various contexts with a range of options for students, teachers and also guardians, relying on the resources, both materials and human, available to them. The research study found that Covid-19 has actually negatively affected the education and learning sector in lots of nations and likewise in many ways. The students, teachers as well as parents are mainly influenced considering that they are the direct individuals in this field. Students are the greatest losers since they are not going to school due to the COVID-19 and also the methods which the learning institutions are making use of to teach them are not convenient to a lot of the students. The study found that children from poor backgrounds are the most affected by the pandemic due to low exposure to modern technology. The study recommended that government should invest more in technology development to ensure that students in remote areas and also those from poor families can access the learning materials quickly and at an affordable cost. Also, both teachers and students need to be knowledgeable about new technology and its use for them to be reliable when using it. Parents should involve children in day-to-day tasks to ensure that they may not enter into bad companies and end up destroying their lives at a tender age when they are home due to the pandemic. Countries close schools from now and then depending on the COVID-19 situations in an area. Moreover, there is also a need for the government to offer free counseling to those students, especially those whose parents have lost jobs due to the pandemic.
Keywords: Pandemic, COVID-19, students, teachers, Education, Sweden
References
Arreman, I. E., & Holm, A. S. (2018). Privatisation of public education? The emergence of independent upper secondary schools in Sweden. Journal of education policy, 26(2), 225-243.

Berhanu, G. (2021). Inclusive Education in Sweden: Responses, Challenges and Prospects. International journal of special education, 26(2), 128-148.

Bozkurt, A., Jung, I., Xiao, J., Vladimirschi, V., Schuwer, R., Egorov, G., ... & Paskevicius, M. (2020). A global outlook to the interruption of education due to COVID-19 pandemic: Navigating in a time of uncertainty and crisis. Asian Journal of Distance Education, 15(1), 1-126.

Churchill, D., Pegrum, M., & Churchill, N. (2018). The implementation of mobile learning in Asia: Key trends in practices and research. Second handbook of information technology in primary and secondary education, 817-857.

Cowie, H., Boardman, C., Dawkins, J., & Jennifer, D. (2020). Emotional health and well-being: A practical guide for schools. Sage.

Dahlstedt, M., & Trumberg, A. (2019). Towards a New Education Regime: The Neo-Liberal Turn in Swedish Education Policy. Journal of Education, 4(2), 17-31

Dawadi, S., Giri, R., & Simkhada, P. (2020). Impact of COVID-19 on the Education Sector in Nepal-Challenges and Coping Strategies. Sage Submissions. Preprint. Doi: https://doi. org/10.31124/advance, 12344336, v1.

Fegert, J. M., Vitiello, B., Plener, P. L., & Clemens, V. (2020). Challenges and burden of the Coronavirus 2019 (COVID-19) pandemic for child and adolescent mental health: a narrative review to highlight clinical and research needs in the acute phase and the long return to normality. Child and adolescent psychiatry and mental health, 1(4), 1-11.

Goktas, Y., Yildirim, S., & Yildirim, Z. (2019). Main barriers and possible enablers of ICTs integration into pre-service teacher education programs. Journal of Educational Technology & Society, 12(1), 193-204.

Jimenez, E., Casado, M. A., Moreno, G., & Garitaonandia, C. (2019). Immigrant children and the internet in Spain: Uses, opportunities, and risks. Media and communication, 7(1), 56-65.

Kalbfleisch, M. L., & Tomlinson, C. A. (2019). Teach me, teach my brain a call for differentiated classrooms. Educational Leadership, 56(3), 52-55.

Kim?Rivera, E. G. (2018). English language education in the Swedish compulsory school. Foreign language annals, 32(2), 234-242.

Mair, J., Marti, I., & Ventresca, M. J. (2019). Building inclusive markets in rural Bangladesh: How intermediaries work institutional voids. Academy of Management Journal, 55(4), 819-850.

Napal Fraile, M., Peñalva-Vélez, A., & Mendióroz Lacambra, A. M. (2018). Development of digital competence in secondary education teachers' training. Education Sciences, 8(3), 104.

Okwilagwe, O. (2021). Deepening International Collaboration in a Post-Covid-19 Era for Youth and Education in Sub-Sahara Africa. Journal of European Studies of the European Community Association, 4(1),27-43

Olofsson, J., & Thunqvist, D. P. (2018). The modern evolution of VET in Sweden (1945–2015). In Vocational Education in the Nordic Countries (pp. 124-145). Routledge.

Orr, D., & Hovdhaugen, E. (2021). 'Second chance'routes into higher education: Sweden, Norway and Germany compared. International journal of lifelong education, 33(1), 45-61.

Owusu-Fordjour, C., Koomson, C. K., & Hanson, D. (2020). The impact of Covid-19 on learning-the perspective of the Ghanaian student. European Journal of Education Studies, 4(1), 23-35

Ruggeri, K., Farrington, C., & Brayne, C. (2018). A global model for effective use and evaluation of e-learning in health. Telemedicine and e-Health, 19(4), 312-321.

Sahlberg, P. (2020). Education policies for raising student learning: The Finnish approach. Journal of education policy, 22(2), 147-171.

Skaalvik, E. M., & Skaalvik, S. (2019). Job Satisfaction, Stress and Coping Strategies in the Teaching Profession-What Do Teachers Say?. International education studies, 8(3), 181-192.

Stoyanov, S., Popchev, I., Doychev, E., Mitev, D., Valkanov, V., Stoyanova-Doycheva, A., ... & Minov, I. (2021). DeLC Educational Portal. Cybernetics and Information Technologies, 10(3), 49-69.

Turja, L., Endepohls-Ulpe, M., & Chatoney, M. (2020). A conceptual framework for developing the curriculum and delivery of technology education in early childhood. International Journal of Technology and Design Education, 19(4), 353-365.

Yunus, M. M. (2019). Malaysian ESL teachers' use of ICT in their classrooms: Expectations and realities.Journal of Eurocall, 19(1), 79-91

Zins, J. E., & Elias, M. J. (2018). Social and emotional learning: Promoting the development of all students. Journal of educational and psychological consultation, 17(2-3), 233-255.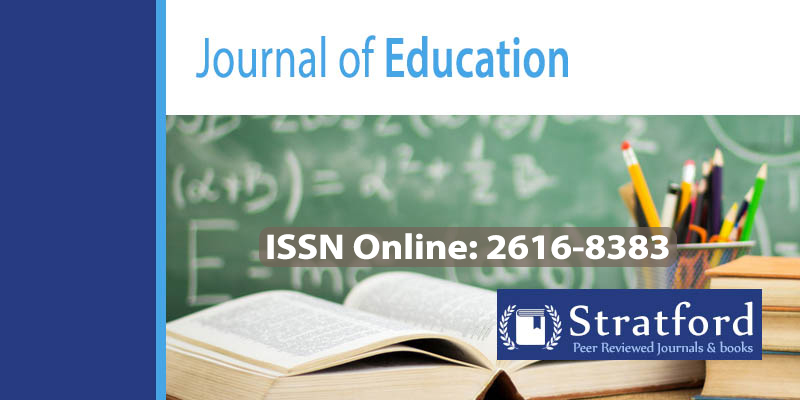 How to Cite
Thunqvist, C. T., & Chatoney, B. (2021). Effects of health pandemic on Education Sector in Sweden: Case study of Covid-19 pandemic. Journal of Education, 4(3), 37-45. Retrieved from https://stratfordjournals.org/journals/index.php/journal-of-education/article/view/804