Covid-19 Break and Its Impact on High School Girls in Migwani Sub-County
Christopher Mwinzi Mbuvi

Africa Nazarene University
Abstract
On January 30 2020, The World Health Organization (WHO) declared the Corona Virus Disease a Public Health Emergency of Global concern. In April 28 2020 the COVID-19 infections globally had reached over 3.04 million people with reported deaths amounting to over 211,305, and slightly over 895,261 confirmed recovered cases. The emergence of Covid-19 pandemic resulted to restricted movement except for essential services such as specialized medical care and security services among others. Major transportation means ceased ranging from air transport to sea and land. Most governments imposed quarantine measures to curb the spread of the Corona Virus Disease. The quarantine measures were extended to learning institutions. The Ministry of Education in Kenya moved fast to introduce a raft of measures in schools to protect the learners from contacting the virus. This led to the closing of all learning institutions. The break was so long than ever experienced in Kenya before, running from 15 March 2020 to 5 October 2020.The learners were now at the hands of parents and guardians for seven months consecutively. This was quite abnormal as it has never happened before and more so in our generation. , this theoretical paper review sought to look at the COVID-19 impact on high school girls in Migwani Sub-County and gives recommendations on the way forward. The study employed mixed methods research design owing to the fact that this was an effective design that accommodated both qualitative and quantitative data. The findings revealed that 31 schools reported pregnancies of girls, 23 schools reported dropouts of girls, while 30 schools reported poor academic performance and finally 14 schools reported that girls were married off. The study recommended that high school principals needed to come up with strategies on how to enhance the parent teacher and learner relationship. In addition, the parents needed to take charge of their daughters by ensuring close contact where the parents can create rapport necessary for the daughters to have confidence needed to disclose their personal needs.
Keywords: Covid-19, Impact, School, Girls, Migwan.
References
Aqorau, T. (2020). COVID-19 and Solomon Islands: The first casualties and possible ramifications. DevPolicyBlog. Retrieved from devpolicy.org/covid-19- and-solomon-islands-the-first-casualties-and-possible-ramifications-20200409/

Areba, G. (2020). COVID-19 Pandemic Impact on Kenyan Education Sector: Learner Challenges and Mitigation. Journal of Research Innovation and Implications in Education Vol.4.

Bainton, N., & McDougall, D. (2021). Unequal Lives in the Western Pacific. In BAINTON N., MCDOUGALL D., ALEXEYEFF K., & COX J. (Eds.), Unequal Lives: Gender, Race and Class in the Western Pacific (pp. 1-46). Australia: ANU Press. doi:10.2307/j.ctv1h45mj4.5

Bryman, A. (2015). Social Research Methods. ProQuest Ebook Central https://ebookcentral.proquest.com

Dingwall, R., Hoffman, L. M., & Staniland, K. (Eds.). (2013). Pandemics and emerging infectious diseases: The sociological agenda. ProQuest Ebook Central https://ebookcentral.proquest.com

Greenfields, T. & Greener, S. (2016). Research Methods for Postgraduates (3ed).

Kothari, C. (2004). Research Methodology: Methods and Techniques. ProQuest Ebook Central https://ebook central.proquest.com.

Krubiner, C., Keller, J., & Kaufman, J. (2020). (Rep.). Center for Global Development. doi:10.2307/resrep29626.

Walby, S. (2021). The COVID pandemic and social theory: Social democracy and public health
in the crisis. European Journal of Social Theory, 24(1), 2243. https://doi.org/10.1177/1368431020970127.

World Health Organization. (2020). Maintaining essential health services: Operational guidance for the COVID-19 context (pp. 22-49, Rep.). World Health Organization. doi:10.2307/resrep27978.5.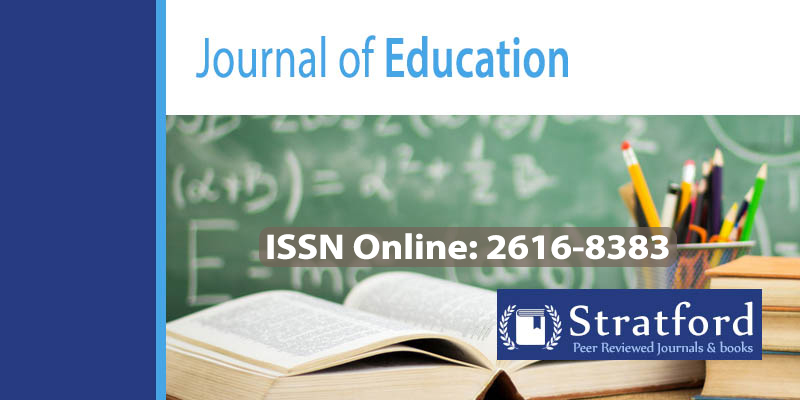 How to Cite
Mbuvi, C. M. (2021). Covid-19 Break and Its Impact on High School Girls in Migwani Sub-County. Journal of Education, 4(3), 81-92. Retrieved from https://stratfordjournals.org/journals/index.php/journal-of-education/article/view/831