Critical Review of Apple's Advertising Strategies in North America
Thomas Luke

University of Alberta

Benjamin Emmett

University of Alberta
Abstract
Advertising is a form of communication meant to lead an audience towards a particular decision concerning a product, service, or idea. Advertising sometimes uses narratives for marketing a product. This type of advertising involves the use of a story to sell a good, product, or service. The use of narratives in marketing has become widely used over the past years as other forms of marketing became redundant and ineffective. Narratives evoke a feeling in the audience and are a more effective method than previous ads and marketing tools. Apple uses its narrative in all the advertisements that it does. It researches its consumers' needs and past purchasing behavior and uses that information to develop strategies that influence the purchasing behavior of targeted consumers. This paper sought to research the advertising strategies that Apple uses to promote its products, how Apple uses narratives in its advertising, how the brand influences consumer purchasing behavior, and an analysis of how companies have imitated the company's advertising strategies. 
Keywords: Apple, Advertising Strategies & North America
References
Almeida, M., Sousa, E., Rodrigues, C., Candeias, M. B., & Au-Yong-Oliveira, M. (2021). Samsung vs. Apple: How Different Communication Strategies Affect Consumers in Portugal. Administrative Sciences 11: 19.

Bozkurt, Y. (2019). Expectation Horizon in Narrative Advertising. In Handbook of Research on Narrative Advertising (pp. 22-35). IGI Global.

Chanda, K. (2017). Promotional Strategies of Apple Producers Practiced in Himachal Pradesh. HGPI Internationall Journall of Multiidiisccippliinarry Researchh Andd Developmentt, 1.

Choi, D., Bang, H., Wojdynski, B. W., Lee, Y. I., & Keib, K. M. (2018). How brand disclosure timing and brand prominence influence consumer's intention to share branded entertainment content. Journal of Interactive Marketing, 42, 18-31.

Dave, J. G. (2018). A Case Study on Marketing Strategy: Apple i-Phone. IJRAR-International Journal of Research and Analytical Reviews (IJRAR), 5(4), 106-114.

De Mooij, M. (2018). Global marketing and advertising: Understanding cultural paradoxes. Sage.

Di Benedetto, C. A., & Kim, K. H. (2016). Customer equity and value management of global brands: Bridging theory and practice from financial and marketing perspectives: Introduction to a Journal of Business Research Special Section. Journal of Business Research, 69(9), 3721-3724.

Dolata, U. (2017). Apple, Amazon, Google, Facebook, Microsoft: Market concentration-competition-innovation strategies (No. 2017-01). SOI Discussion Paper.

Li, Z., Nan, G., & Li, M. (2018). Advertising or freemium: The impacts of social effects and service quality on competing platforms. IEEE Transactions on Engineering Management, 67(1), 220-233.

Qiu, C. M., Vakratsas, D., & Dall'Olio, F. (2019). Advertising originality decisions in competition. Customer Needs and Solutions, 6(1), 13-25.

Singh, A. P. (2019). Dynamics of Persuasion in Advertising: An Analysis of Apple Commercials (Doctoral dissertation).

Tsvetkova, N. A., Tukkel, I. L., & Ablyazov, V. I. (2017, May). Simulation modeling the spread of innovations. In 2017 XX IEEE International Conference on Soft Computing and Measurements (SCM) (pp. 675-677). IEEE.

Wouters, A. (2014). Apple & Google: a comparative analysis of marketing approaches and strategies. Czech Journal of Social Sciences Business and Economics, 3(4), 31-43.

Zhang, H., Liang, X., & Wang, S. (2016). Customer value anticipation, product innovativeness, and customer lifetime value: The moderating role of advertising strategy. Journal of Business Research, 69(9), 3725-3730.

Zheng, L., Phelps, J. E., & Pimentel, D. (2019). Psychological Transportation in Narrative Advertising. In Advertising Theory (pp. 53-69). Routledge.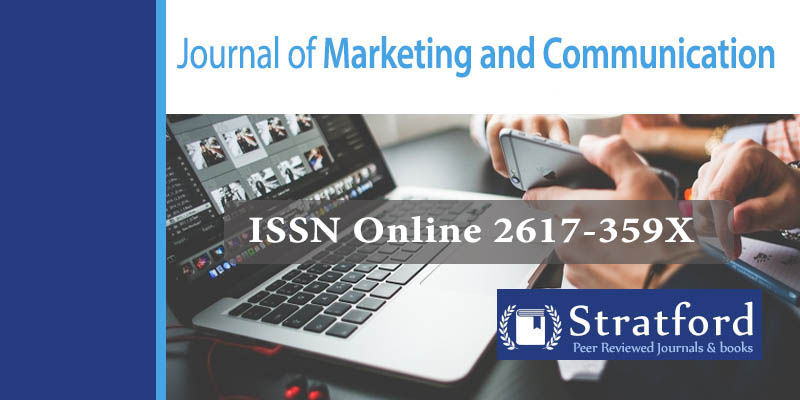 How to Cite
Luke, T., & Emmett, B. (2021). Critical Review of Apple's Advertising Strategies in North America. Journal of Marketing and Communication, 4(1), 36 - 44. Retrieved from https://stratfordjournals.org/journals/index.php/journal-of-marketing/article/view/820